E-issues
OTTOBRE design® 5/2009 woman e-magazine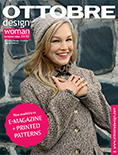 EUR 8.50
(Includes postage)
This is a partly digital edition of the magazine and comes in three components:
Component 1: Readily downloadable color photo pages (PDF)
Component 2: Readily downloadable, printable sewing instructions (PDF)
Component 3: Full-size pattern sheets to be delivered by ordinary post
Download and save the PDF files to your computer, from where you can print them out if you wish.
By buying and downloading this product I agree that I will only use it for my own private use. Further information on our copyright policy.